The Maldives are the ultimate paradise for me. As an ocean and beach lover, I immediately fell in love with the white sandy beaches, the endless blues and the remote island feelings. I´ve been lucky enough to visit the Maldives twice already and I´m sure that I will visit again in the future. Many times I´ve been asked about the best things to do in the Maldives and whether it´s not easy to get bored as the Maldives are "only" small islands. But trust me on that, you won´t get bored in the Maldives. There´s so much to do and time will fly during your visit. We stayed for 10 days each time we visited and I would say it´s about the perfect length for a Maldives stay – even though I would have loved to stay FOREVER.
~ Disclaimer: This blog post contains affiliate links. I will receive a small commission for purchases/bookings made through these links, at no extra cost to you. ~
So, here we go with a list of the 11 best things to do in the Maldives…
1) Take a Beach Stroll around the Island
The perfect way to start your Maldives vacation is to explore the island that you´re staying on. So why not take a beach stroll around the island. This way you can get to know the island and its amenities and start to unwind right away. We actually took long beach strolls almost every day (preferably at sunset) – it was one of our favorite activities.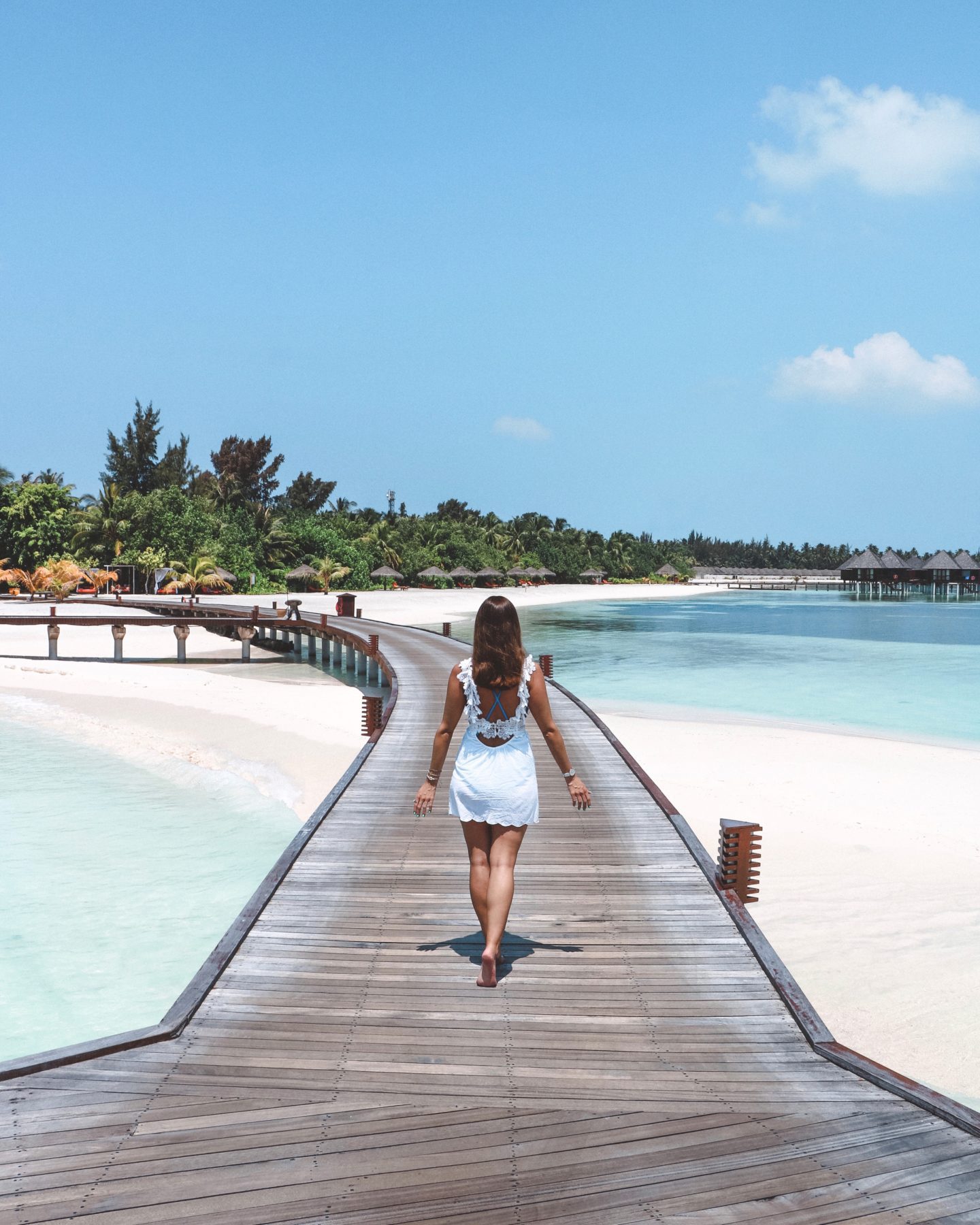 2) Go Snorkeling
If you are an ocean lover like me, this will be your favorite activity. We went snorkeling every day in the house reefs of the islands we stayed on. We saw lots of colorful fish, reef sharks, stingrays, mantas, turtles and so much more. It was such an insanely amazing experience. The water in the Maldives is crystal clear so you don´t have to go deep to experience marine life up close. It felt like being in a giant aquarium.
3) Take Diving Lessons
In case snorkeling isn´t enough for you and you want to explore the ocean a bit deeper, the Maldives is a perfect place to take diving lessons or to go diving if you already have diving experience. The Maldives is definitely one of the best scuba diving destinations on earth. If you are lucky you might even see some rare whale sharks on your diving adventure.
4) Dip into the Pool
Most of the resorts in the Maldives offer beautifully designed pools. I especially love infinity pools and I was happy that we could enjoy one of the most amazing infinity pool views during our second stay in the Maldives. It was incredible to see countless shades of blue in the pool and the ocean behind (see below). But I have to say, even if I love infinity pools, my favorite infinity pool will always be the ocean.
Infinity Pool at Sun Siyam Olhuveli
5) Enjoy the Privacy of your Over-Water Villa
If it´s one thing the Maldives are famous for, it´s the stunning over-water villas. On our first stay in the Maldives, we stayed 5 days in a beach villa and 5 days in an over-water bungalow to be able to compare both experiences. We genuinely loved both for different reasons but the water villa experience was definitely more memorable. On our second stay, we decided to stay in an over-water villa for the whole time. It´s amazing to be able to jump right into the water from your own private deck. You can swim or snorkel any time you like and sunbathe in privacy. Moreover, you have a minibar and can order room service, so you don´t even have to leave your room if you don´t want to (or if the weather might be bad for a day).
Where we stayed:
Sun Siyam Olhuveli offers different types of over-water and beach villas. I really loved the infinity pools on the island and the various dining options in the many restaurants. If you love snorkeling, this resort also has an amazing house reef (we saw turtles, sharks, rays and lots of colorful fish). In addition, the resort offers many water-sports activities.
To read my detailed hotel review about our stay at Sun Siyam Olhuveli, click here.
Click here to book this hotel.
Adaaran Prestige Ocean Villas offers an excellent service and a personal butler with your ocean villa. I loved the luxurious interior design of the over-water villas and the great a-la-carte breakfast. The resort also offers many water-sports activities and even a surf spot.
Click here to book this hotel.
To search for other amazing hotels in the Maldives, CLICK HERE.
6) Sip Cocktails at the Beach and Relax
The Maldives are perfect for relaxed days with a cocktail in one hand and a good book in the other. So make sure to take some time to relax to the fullest and to soak up a lot of sun. There is no other place like the Maldives that makes unwinding so easy, believe me! Most of the islands offer different areas to relax so it´s your choice whether you want to relax in a beach chair, at the pool, in your own villa or in a hammock between two palm trees. Tough choice, right!?
7) Water-Sports Activities
All of the resorts in the Maldives offer several water-sports activities like stand up paddle boarding, kayaking, surfing, wind/kite surfing, jet-skiing, parasailing or even hoverboarding. I really loved kayaking and jet-skiing but my favorite activity was stand up paddle boarding (SUP). The Maldives is great for SUP because the lagoons are really calm and you can observe underwater life right below your stand up paddle board through the clear pristine water.
8) Dolphin Spotting on a Sunset Cruise
A highlight of our stay in the Maldives was a sunset cruise including dolphin spotting. It was such an unforgettable experience. We watched the sky turn from warm golden tones into deep red colors. And the moment we thought it couldn´t get any better, we discovered some big pods of dolphins swimming into the sunset. They were very playful and kept flipping and twirling all the time. I think they were as happy to see us as we were to see them. It was a truly magical moment that I will never forget.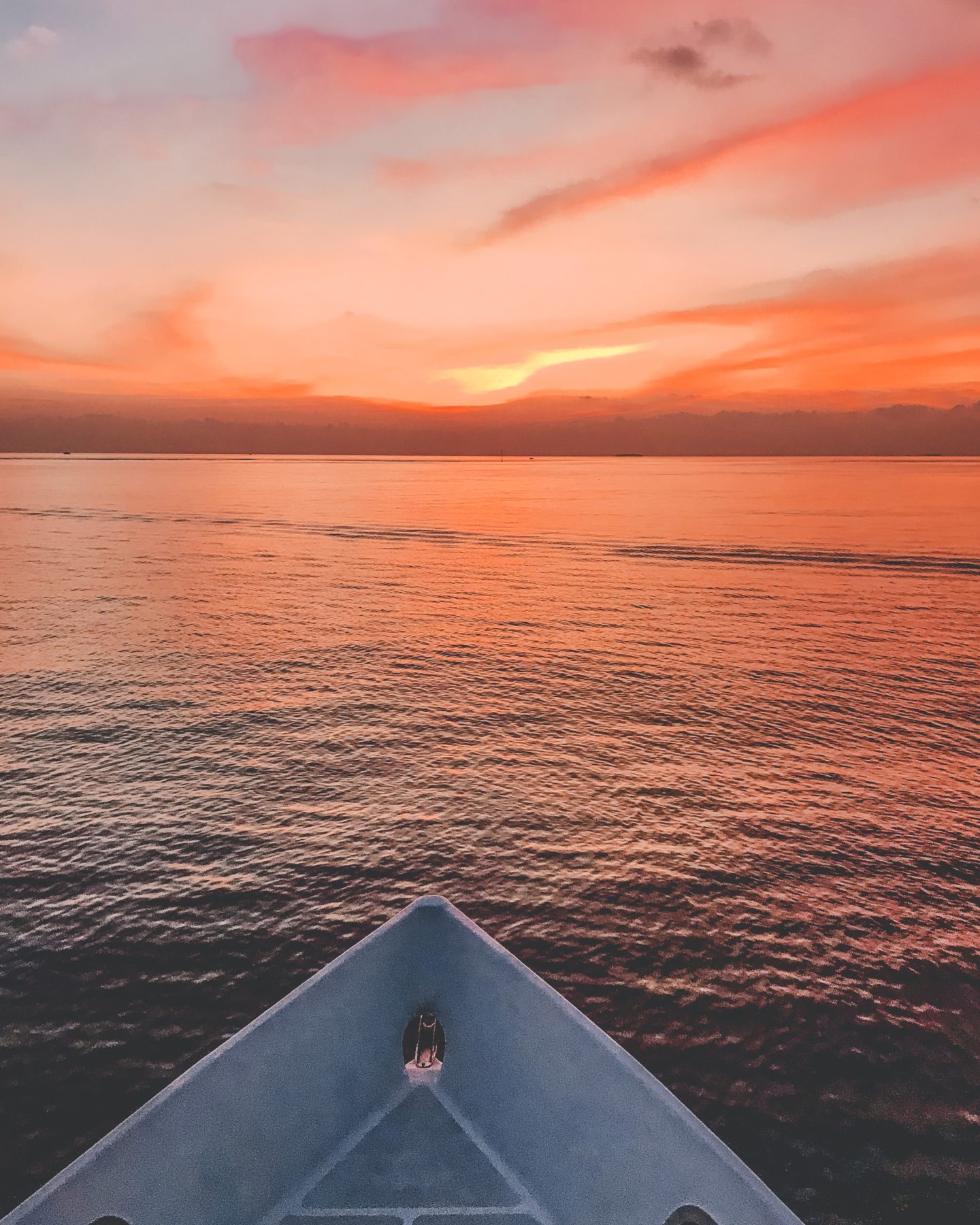 9) Have a Relaxed Spa Day
Most resorts offer a variety of spa treatments, so why not spend a day at the spa? We enjoyed a full-body couple's massage in the most beautiful setting. It was the icing on the cake of our relaxed time in the Maldives. Some vacation packages of the resorts already include spa treatments – if not be prepared that the prices are usually higher than in the rest of Asia.
10) Sunrise and Sunset Watching
Something that you can do every day in the Maldives, and you won´t get tired of, is sunrise or sunset watching. I´ve seen some of the most incredible sunrises and sunsets I´ve ever experienced in the Maldives. Especially the sunsets are on fire. That moment when the sun touches the sea and the sky explodes is simply breathtaking. The Maldives is probably one of the most romantic destinations on earth. Therefore, a special experience, especially for couples, is a romantic sunset dinner at the beach.
11) Take Unforgettable Pictures
Lastly and most importantly, don´t forget to take as many pictures of this tropical paradise as possible. A vacation in the Maldives is something that you will never forget, so you will definitely want to reminisce while looking at those beautiful photos when you´re back home. For me, it was a trip of a lifetime and I enjoyed every second of our beautiful stay in the Maldives.
Like this post? Pin it for later!
Want to read more tips for other destinations? Click HERE.